Bendable plywood, also known as Curve-Ply, Flexply, Wacky Wood and Wiggle wood, bending plywood, is normally made out of hardwood imported veneers with the layers all running in one direction, this allows bend-ability to the panel and can be applied on a curved radius. Our stocked bending plywood is manufactured in the United States and distributed throughout the country.
Used in variety of cabinet applications, curved furniture parts and fixtures such as displays in department stores, restaurants, commercial buildings and building of spiral stairways. Most times it will be overlaid in a custom application with veneer, high pressure laminate, for finished columns or other rounded or curved radius surfaces.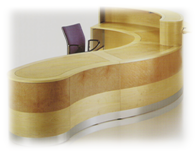 Bending plywood for ceilings and walls
Bending plywood comes in thicknesses of 3mm, 5.2mm, 9mm, 15mm. Panels come in 4'x8′, 8'x4′, 10'x4′ (9MM Only) sizes. Bending plywood is a great substrate for applying other species of veneers to obtain a smooth face for painting or staining. The tightest diameter that can be achieved is around 15″, after that point the material will start cracking in the face.