Exterior NAF MDF Panel
EXTIRA is a exterior grade No Added Urea Formaldehyde MDF precision engineered, high resin, high temperature cured all hardwood fiber composite used for a variety of millwork applications where high moisture causes others wood composite substrates to fail.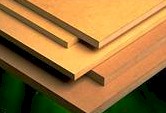 Uses:
EXTERIOR Moulding Patterns: (Ex. Fluted casings, Exterior dentil mould, Base, Casing, Mantles, Shingle mould, and Crowns).
EXTERIOR Window Components: (Ex. Brick Mould, Jambs, Pediments over windows, Window stool, and Window trim).
EXTERIOR Door Components: (Ex. Pilasters and door trim, Pediments over doors, Raised Panels, and Bottom Rails).
Other EXTERIOR Applications: (Exterior signs, Column facings, Cabinet components, Core Materials, Gable vents and louvers, Counter tops, Star risers, Stair skirting, and Flat trim).
Features/Benefits:
Great Substitute for Redwood and Cedar!!!!!
Interior and exterior Moulding Patterns (All 16′ lengths, sizes available 3 1/2″, 5 1/2″, 7 1/4″, 9 1/4″, 11 1/4″, and 16″).
Thickness (1/2″, 5/8″, 3/4″, 1″, 1 1/8″ and 1 1/4″).
Can help eliminate the need for edge-gluing and finger jointing.
It's uniform density has excellent machinability.
Versatile enough to use where moisture is a problem and flexible enough to use almost anywhere you need machine wood.
Talk with a sales representative from 8am to 5pm eastern standard time or email anytime to sales@packardforestproducts.com.  Please include quantity, thickness and contact information, including company name and address.  Thank You.