Hardboard is also called Presswood, Duratec, Fibrex or Masonite.
Hardboard is a composite panel manufactured primarily from inter-felted ligno-cellulosic fibers consolidated under heat and pressure. Other materials may be added during the manufacturing process to improve certain properties, such as resistance to abrasion and moisture, and increased strength and durability.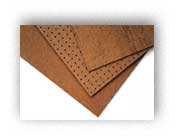 Hardboard is used in a variety of applications including furniture components, wall paneling, exterior siding and trim, underlayment, interior trim, perforated and utility boards. Panels are available in many forms other than the familiar "brown board", including sophisticated woodgrains and embossed surfaces
Hardboard is produced by converting wood into fibers (defibering) and then reconstructing the fibers into panels. The American Hardboard Association defines hardboard as: "panel manufactured from inter-felted ligno-cellulosic fibers which are consolidated under heat and pressure in a hot-press to density of 31 pounds per cubic foot or greater."
Surface is classified as either smooth one sided (S1S) or smooth two sides (S2S) and may be perforated.
Generally 4′ wide and 8′ long, though presses from 5′ x 16′ and larger exist. New technology 4′-8′ wide continuous presses are now common
Thickness can vary from as thin as 1/10″ to as thick as 7/16″.
Moisture content may vary between 2% and 9%, but the variance may not be more than 3% within any one shipment.
FEATURED BENEFITS
Low cost – Less expensive than other plastics and composite materials used for interior hard trim applications
High strength and stiffness – Superior flexural strength and stiffness over a wide range of temperatures; used in a sandwich construction with a low-density core, provides a strong, lightweight option for load bearing applications
Good dimensional stability – Better dimensional stability than many plastic materials
Effective sound barrier – Good choice for sound blocking applications; combined with a sound absorption material, creates a first-rate acoustic package
Excellent bonding for coverings and finishes – Superb surface for painting, bonding, laminating and coating applications, dielectric and vacuum-covering operations
AN NUAF (NO ADDED UREA FORMALDEHYDE) PRODUCT.
Use of Natural Products
Hardboard contains more than 97% natural fiber… compare that to any other material used for interior trim applications.
In wet process hardboard manufacture, synthetic additives are kept to a bare minimum.
The naturally occurring wood components are used to bond fibers together under heat and pressure. The result is a strong and stable product that is as natural as you can get.
The natural fibers primarily come from forest residue, waste materials and recycled materials.
Forest residue – waste material that is leftover from logging operations such as tree tops and branches
Industrial waste – waste and rejected material from wood processing plants, recycled board, recycled pallets
Internal Recycle and Utilization of Raw Materials
Process wastewater containing dissolved wood sugars is concentrated by evaporation to create 10,000 tons per year of wood molasses. This material is used as an adjunct for cattle feed.
Trim waste, sander dust, and wood chip screenings are used as fuel to generate 50% (280 billion BTU per year) of the energy needed to make the hardboard product.
Wood ash from generating energy is used as a soil amendment (750 tons per year) by area farmers. This program is managed by the Agricultural Extension Service.
Bark, wood fines and dirt are reclaimed from the chip washing process and converted into compost at a rate of 2,000 tons per year.
Customer Recycling and Uses of Board Processing Waste
Fuel for generating energy
Landscaping / mulch products
Livestock bedding
Talk with a sales representative from 8am to 5pm eastern standard time or email anytime to sales@packardforestproducts.com.  Please include quantity, thickness and contact information, including company name and address.  Thank You.