ANSI/HPVA defines hardwood plywood as a "panel composed of an assembly of layers or plies of veneer or veneers in combination with lumber core, particleboard core, MDF core, hardboard core, or of a special core material joined with a adhesive.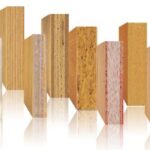 Hardwood Plywood Core Types
Veneer Cutting Illustrations
COLUMBIA FOREST PRODUCTS
COMPLETE LINE OF HARDWOOD PLYWOOD OFFERED
CLICK ON PICTURE TO SEE COMPLETE DETAILS
Welcome to Bessemer Plywood
Bessemer Plywood Corp. is a producer of high quality aspen and northern softwood plywood.
Our mill located in Michigan's western upper peninsula is ideally situated to make use of the aspen trees that grow through out the upper great lakes area.
The logs are harvested on federal, state, county and private lands by independent loggers using sustainable forestry practices.  When delivered to the mill a skilled and dedicated workforce turn the logs into the many products we produce.
Products include substrates for high pressure laminates and engineered flooring, furniture frame stock, housing construction, and pressure treating.   Pittsburgh Testing Laboratories provides independent third party certification of our products
Our location allows for quick truckload shipment of highly mixed loads allowing a customer quicker turns on inventory.  Dedication to quality and service has allowed us to build close business partnerships.
Products
Talk with a sales representative from 8am to 5pm eastern standard time @ 877-200-4213 or email anytime to sales@packardforestproducts.com. 
To receive a quote, please include quantity, thickness, panel size and contact information, including company name and shipping address.  Thank You.