Packard Forest Products, Inc. ( PSF ) Phenolic Surface Film Faced OSHA Approved Shoring Birch Plywood is a high-quality veneer treated with special film. The laminated surface stops moisture from penetrating and provides resistance to abrasion, aggressive environments, fungus and mold. Edges are sealed with water-resistant acrylic paint.
Composed of 100% Birch wood veneers bonded with exterior phenolic resin adhesive. Each face is overlaid with a dark brown phenolic film to minimize potential of moisture penetration and provide for a smooth uniform surface. This panel is commonly used as a concrete form panel because of its resistance to moisture and alkaline-based chemicals. Its properties make it also suitable for vertical trench shoring, hydraulic plywood shores, concrete shoring, forming plywood, film face, trench shoring solutions, manhole shields, work table surfaces and even certain types of cabinetry. Other color films and non-slip textures for walking surfaces and mezzanines are also available on a special order basis.
Because of its lightweight, high strength, durable nonconducting construction, you can reduce crew size and free backhoe-trenching machinery. High reuse capability, flexibility in application and ease of deployment/retrieval reduce shoring investment over traditional lumber, plywood and steel systems.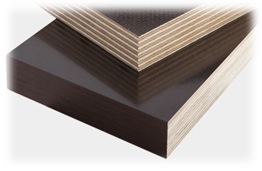 OSHA approved trench shoring plywood panel
Construction
Special exterior Russian birch plywood with the superior strength of being made entirely of Nordic white birch, one of the strongest hardwoods available. The panel has one of the toughest, most durable surfaces on the market. Phenolic resins impregnated into the white birch hardwoods provide maximum reuse and less end-product cost.
Safety
High strength
Above ground installation/retrieval
Non conductive construction
Durability
Tested and proven
High-impact resistance
Weather resistant
High job site recovery
Economy
High reuse capability, long life
Lower shoring material cost
Adaptable to all mechanical/hydraulic bracing systems
Multi-use on-site capability
Lightweight
Reduces size of shoring crew
Frees backhoe/trenching machine
Easily transportable
Minimizes insurance cost/penalties through proper safety
Sealers
The panels edges are sealed by a unique process which insures minimum moisture penetration. When these edges are re-cut or when wood is exposed to moisture by nail holes, etc., it is important to reseal them. Urethane sealers, chlorinated rubber-based paints, vinyl water-based paints and modified spar varnishes are some of the sealers proven effective.
Care and Storage
Cleaning and repairing the phenolic face of the shoring panel will lengthen its life. A wide, blunt blade or stiff brush is recommended. Examine the edges, corners and faces for saw cuts, dents, or other damage after each use. Be sure to fill and seal all damaged areas with a polyester-resin auto body putty (or epoxy plastic fillers). Make sure the area is clean and dry prior to fillings and sanding. Careful handling, stacking and storing will also extend the panels life.