PACKARD FOREST PRODUCTS IS EXCITED TO INTRODUCE OUR NEW NATURAL MAPLE AND COLORED CABLINER PANELS APPLIED TO OUR WEYERHAEUSER ( OLD PLUM CREEK ) ULTRA CORE HDF VENEER WOOD PANEL.  NOT ONLY A TERRIFIC HIGH QUALITY PAINT GRADE PANEL, BUT ALSO GREAT FOR LAMINATING BECAUSE OF THE HIGH QUALITY FACE AND BACK HDF USED.  SO IF YOUR LOOKING FOR A STABLE, FLAT, SUPERIOR CORE WITH 1 OR 2 SIDED NO DEFECT FACES,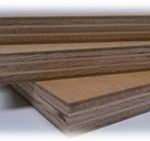 OUR ULTRA  CORE WOOD GRAIN OR COLORED CABLINER WOOD PANEL IS THE ANSWER TO YOUR NEEDS.   STOCKED IN FULL 1/2″, 11/16 AND 3/4″ PANELS THAT ARE OVERSIZED 49X97 PANELS FOR BETTER UTILIZATION AND CUTTINGS.
WE SHIP THROUGH OUT THE COUNTRY AND CAN ACCOMMODATE SMALLER TO TRUCK LOAD ORDERS.
WE LOOK FORWARD TO WORKING WITH YOUR DESIGNERS AND PROJECT MANAGERS TO PRODUCE THE RIGHT PRODUCT
APPLICATIONS:
GREAT FOR SHELVING UNITS IN WOOD GRAIN OR COLORED 1 OR 2 SIDED.
GREAT FOR BASE CABINETS, WHERE A FINISHED INSIDE LOOK IS NEEDED BEFORE APPLYING AND HPL OR PAINTED OUTSIDE FINISH.
GREAT FOR UNDER CORIAN COUNTERTOPS OR SIMILAR MATERIAL WHERE THE BOTTOM IS SEEN BECAUSE OF HEIGHT OR APPLICATION.
GREAT FOR WALL APPLICATION WHERE FACE DEFECTS AND IMPERFECTIONS ARE NON-ACCEPTABLE.